Popeks Books, IOBA
Bookseller specializing in Art, Autographed, Childrens, Hollywood, New York, Religion, Vintage Paperbacks
Search the inventory of Popeks Books, IOBA
Store located at 356 Main Street in Otego, NY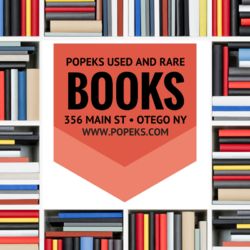 E-mail address:
Phone number:
(607) 431-8764
Address:
Popeks Books, IOBA
356 Main Street
P O Box 114
Otego , New York 13825
United States
Shipping Rates:
Click here for shipping rates
Terms of sale:
30 day return policy. If you have any problems with your order, please contact us. We will do what it takes to make it right.
Browse the inventory of Popeks Books, IOBA
Featured books
STRAY LEAVES FROM FAIRY LAND
by Grimm, Jacob and Wilhelm (trans. J. Edward Taylor).
$599.00
THE ROBE
by Douglas, Lloyd C.
$499.00
TRAPPERS OF NEW YORK: OR, A BIOGRAPHY OF NICHOLAS STONER AND NATHANIEL FOSTER
by Simms, Jeptha R.
$599.00
THE ISLAND OF FANTASY: A ROMANCE
by Hume, Fergus.
$129.00
THE CHECKLIST OF FANTASIC LITERATURE
by Bleiler, Everett.
$299.00
History of New York City
by Stone, William L.
$249.00
Essays and Addresses of Albert S. Bolles
by Bolles, Albert S.
$179.00
History of India Volumes 1-9
by Jackson, A.V. Williams, Editor.
$600.00
The Life and Adventures of Christopher Carson the Celebrated Rocky Mountain Hunter, Trapper, and Guide
by Burdett, Charles.
$179.00
Selections From the Various Authors Who Have Written Concerning Brazil; More Particularly Respecting the Captaincy of Minas Geraes, and the Gold Mines of That Province
by Mounteney, Barclay.
$1,900.00
Notes of Travel in California; Comprising the Priminent Geographical, Agricultural, Geological, and Mineralogical Features of the Country
by Fremont, John C.; Emory, William H.
$1,000.00
Livingstone's Travels and Researches in South Africa
by Liviginstone, David.
$150.00
Memoirs of the Life and Services of Daniel Drake, M.D., Physician, Professor, and Author
by Mansfield, Edward.
$125.00
Autobiography of an English Soldier
by Ballentine, George.
$129.00
Bacchus: An Essay on the Nature, Causes, Effects, and Cure of Intemperance
by Grindrod, Ralph Barnes.
$150.00
The Distractions of Martha
by Harland, Marion.
$60.00
Ivan the Fool; or, The Old Devil and the Three Small Devils
by Tolstoy, Leo.
$299.00
The Novels of Jane Austen, Vol. 5: Northanger Abbey and Persuasion
by Austen, Jane.
$199.00
The Diamond Atlas: The Eastern Hemisphere
by Morse, Charles W.
$349.00
Common Sense in the Household
by Harland, Marion.
$199.00
Browse by bookseller catalog:
Browse books by author:
A
B
C
D
E
F
G
H
I
J
K
L
M
N
O
P
Q
R
S
T
U
V
W
X
Y
Z
Browse books by title:
A
B
C
D
E
F
G
H
I
J
K
L
M
N
O
P
Q
R
S
T
U
V
W
X
Y
Z