Buteo Books
Bookseller specializing in Birds, Birdwatching, Natural History, Ornithology
Search the inventory of Buteo Books
Buteo Books specializes in ornithology books; we stock a comprehensive selection of new, used, and out-of-print books on birds and birdwatching, over 5,000 titles. Several catalogs are issued anually and may be found on our web site: www.buteobooks.com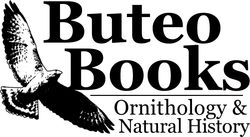 E-mail address:
Phone number:
(434) 263-8671
Address:
Buteo Books
2731 Arrington Rd
Arrington , Virginia 22922
United States
Shipping Rates:
Click here for shipping rates
Terms of sale:
TERMS: Orders may be placed by telephone: 434-263-8671, fax: 434-263-4750, or e-mail (orders@buteobooks.com). We encourage customers to contact us directly to verify availability, condition, and shipping instructions. Prepayment required by check or credit card. We accept Mastercard or Visa credit cards, and money orders; checks require a processing delay. Sales tax will be charged when shipping to Virginia. Orders usually ship within 2 business days. Shipping costs are based on books weighing 2.2 LB, or 1 KG. If your book order is heavy or oversized, we may contact you to let you know extra shipping is required. Please contact us to arrange for returns within 14 days. Expedited services via Priority Mail or United Parcel Service are also available. Shipping and handling charges for foreign orders will be quoted. Global Priority Mail and M-Bags are options. Delivery not guaranteed unless shipped via a traceable, insured method, such as Global Express Mail or UPS.
Browse the inventory of Buteo Books
Featured books
Birds of Montana
by Marks, Jeffrey S., Paul Hendricks, and Daniel Casey; Sponsored by Montana Audubon.
$79.95
Browse by bookseller catalog:
Browse books by author:
A
B
C
D
E
F
G
H
I
J
K
L
M
N
O
P
Q
R
S
T
U
V
W
X
Y
Z
Browse books by title:
A
B
C
D
E
F
G
H
I
J
K
L
M
N
O
P
Q
R
S
T
U
V
W
X
Y
Z